Rick O'Ryan
Rick O'Ryan
New Mexico artist Rick O'Ryan has been a woodturner for over fifty years. His work balances the natural beauty of his selections of wood with the grace and elegance of design he imposes on the wood. His designs often borrow from classic Southwestern vessel shapes.
His vessels are designed and rough turned when green, and set aside to dry. After six months to a year or more of drying, a piece will be re-mounted on the lathe, and finish turned. At this stage, design subtleties are introduced.
Rick's finishes are primarily penetrating oils such as tung, urethane oil and danish oil, and he uses no stains. His finishes are hand rubbed until the desired luster is obtained. The bottom of each piece is finished, numbered, dated, and signed. As with any wood product of this nature, do not expose to direct sunlight.
"First time on a lathe was in the early 1960s.. off and on since, but always part of the picture. The lathe offers the opportunity to present round, or mostly round solutions to problems as well as to create objects for which not every horizontal slice is a circle."
Rick O'Ryan
Not Manitoba Maple, No. 736
This box elder is from a fully burled tree that grew in Loveland, CO. In 1989, it blew down in the wind due to rot and lots of larvae. The larvae damage to the tree is featured in the bottom of this vessel. I rough turned it in 1990, let it dry, and finish turned it in 2015. 8-3/4" diameter x 6". In Canada, box elder is known as Manitoba maple . $325
Velum On A Vent
Coulter pine cone, cast in epoxy resin with chile powder (chilepox). Where I cut through the seeds (pine nuts), I dug them out from their seed covers, and filled those places with powder coat white mixed with epoxy, so that they would resemble the oily white seeds I had removed. Base is Gambel oak from the 2014 Signal Fire, a 5500 acre fire on the north side of Signal Peak north of Silver City, NM. This was a dead branch that burned up to the edge of the trunk where there was too much moisture to sustain the burn. Had help from Jim Pepperl with the forged steel holding the cone above the vent and with information on the behavior of various metals. Copper tentacles. 15" x 14". No. 1029. Finished with tung oil blend on the oak. Available at Sterling Fine Art . $945
Ash, 740
From a curb tree at 500 block College Ave, Silver City, NM, this piece displays some of the character that is often referred to as olive ash . $775
Dique Bowl, 1001
Gambel oak from a huge stump from a tree that was a casualty of the 2014 Signal Fire north of Silver City, NM. The cracks toward the bottom of this pic are filled with chilepox (red chile powder mixed into casting epoxy). This piece was rough turned, thickness around 1/10th the diameter, and set aside to dry. Once dry, it was finished turned, hence any movement of the wood during drying was smoothed. #1001, 14" x 4-3/4", Tung oil finish . $885
Dique Bowl, 1001
in the making . see the two images above
#814
Gambel oak, collected on a firewood permit from the 2014 Signal Peak fire area. Turned green, allowed to dry and move. I then filled with resin and leveled the crack inside, and sanded the inside smooth. The bottom is still quite textured from the movement along the curls of the wood in this crotch area between the two trunks of the tree. The movement of the wood during drying can be felt along the rim. #814, 13-7/8" x 2-11/16". Tung oil finish . $425
Pens
Exquisite locally sourced materials, labelled.
$80 each
Pens with Cholla Stand
Exquisite locally sourced material pens, with cholla stands.
$98 each
10 Turtle Shell, 681
restored rotted gambel oak . forged steel
A collaboration with Jim Pepperl, Pepperl Forge, first report on the tree that produced this was that there was a large burl on a dead and down gambel oak, second report was, it's no good, it's all rot. Not to be deterred, after some study, there appeared to be enough solid wood in the shell, which when combined with copious quantity of resins, might stay together without exploding during the turning process. The base of the bowl was designed in conjunction with the design of the top of the steel stand, such that the finished piece could rotate on the stand . $12000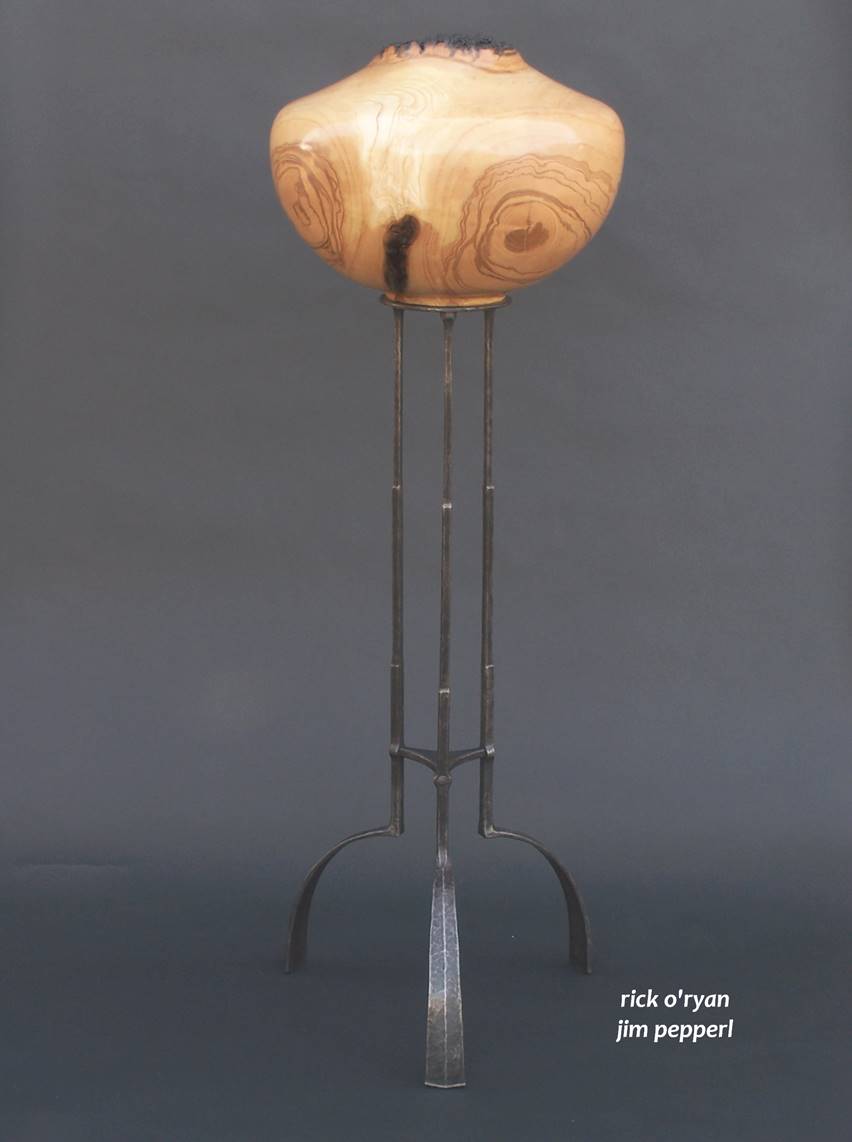 Forged Steel and Burned Ash, 687
ash with singed rim . forged steel
Collaboration with Jim Pepperl, Pepperl Forge, this piece won best of show at McCray Gallery Hot Art Show. This ash is a crotch where the main trunk split into two trunks . it grew on private land in Whitewater Canyon upstream from Glenwood, NM . $6500
Holly Hydrant, 990
Birdsill Holly was an inventor in the mid to late 1800s. He patented his first model of hydrants in 1869. This one is modeled after his second series of hydrants. Holly operated a waterworks plant in Lockport, NY, and distributed water mains and hydrants around town. This wood is honey locust burl from a tree that grew next to the old post office on Broadway in Silver City, NM . $400
Box Elder Steel Toe, 691
box elder . forged steel
Collaborative work with Jim Pepperl, Pepperl Forge . $475
Seahorse Saturn, 711
gray oak multi axis . $625
This planetary series started back in the early 90s and nine were rough turned on two axes while green, allowed to dry, then finish turned on the same two axes. This one produced a nice horsehead figure in the darker color tannin swirls.
Lazy P Gray Oak Vessel, 719
Rough turned while still green, without time in a water barrel, allowed to dry, and re-turned dry . $550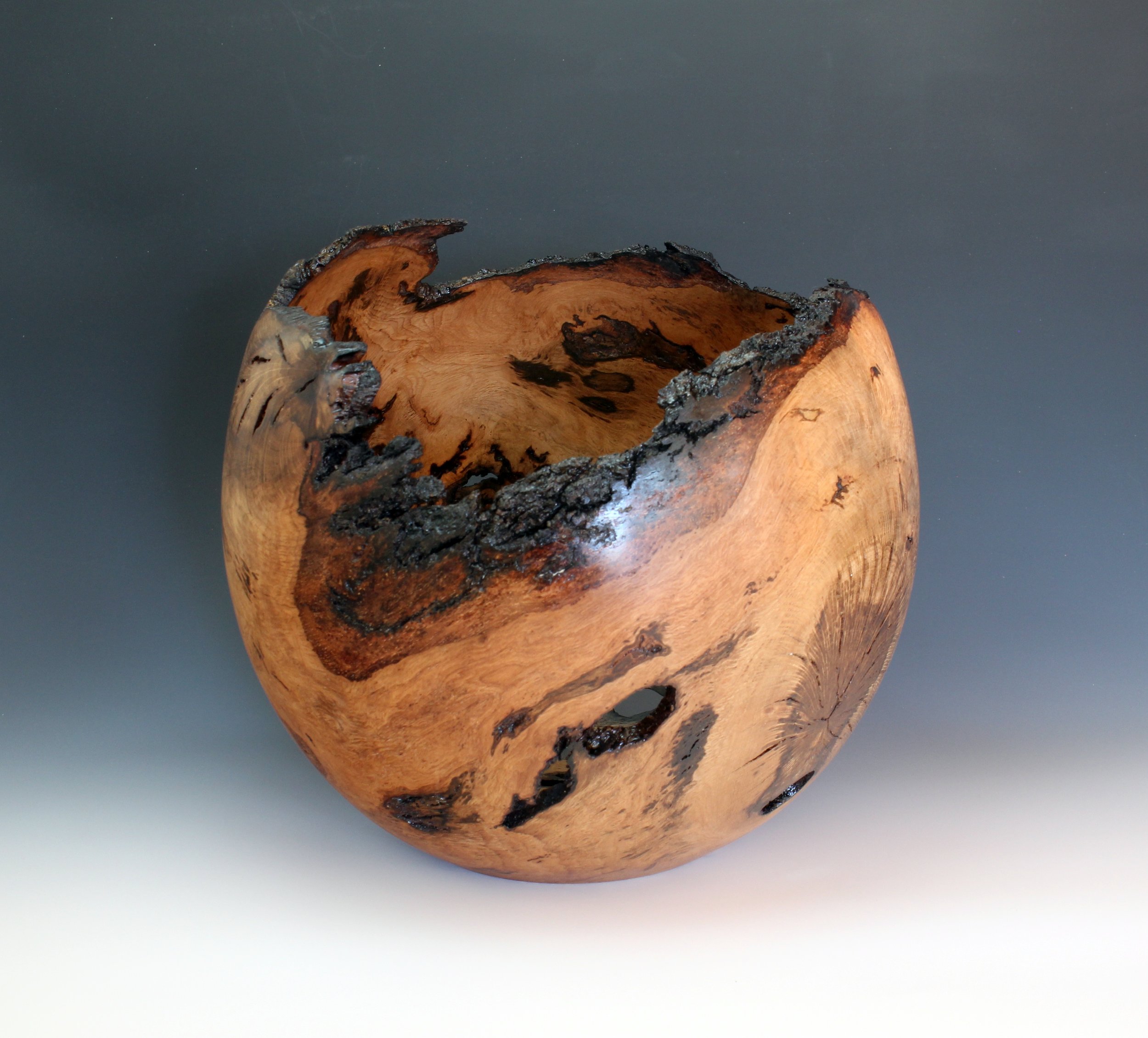 Grey Oak, 732
This oak soaked in a steel barrel for a few years after being cut. The steel reacted with the tannin in the oak and darkened it. Green wood that won't be turned right away gets submerged in water to keep it from drying and cracking before turning it into a bowl or vessel. Compare the appearance of this with the Lazy P vessel, which was turned right after having been cut from the tree . $495
Coulter Pine Cone Pen
coulter pine cone pen and stand . $240
A coulter pine cone, masquerading as a closed end pen. It was an open cone, and most of its seeds were already released. The scales were band sawed off close to where their stems appeared out of the core of the cone. It was then stabilized with methacrylate resin in a vacuum chamber, and baked. During turning, there were multiple applications of epoxy and ca glue to further solidify the surface and fill gaps. SOLD
Box Elder Vessel, 697
This box elder is from a dual trunk fully burled tree that grew in Loveland, CO. In 1989, one of the trunks blew down in the wind due to rot and lots of larvae . SOLD
Coulter Vase, 717
coulter pine cone from California
The coulter pine produces a cone with a large center core of soft but solid material from which the scales, or bracts, originate. When this material is impregnated with stabilizing resin, it holds together well enough to allow it to be turned . Cones are designed in nature to come apart and spread their scales to release their seeds so finding one of these whose growth was arrested and did not open is unusual. The one split in the cone was filled with epoxy mixed with graphite . SOLD
#812
Gambel oak, collected on a firewood permit from the 2014 Signal Peak fire area. Turned and finished while still fairly green. This piece features the bumpy texture that results from the movement along the curls of the wood as it dried. The chatoyance is characteristic of the crotch area between the two trunks of the tree. The stump burl was collected in 2017, three years after the fire, so drying had resulted in cracking of the wood toward the outside of the stump. I filled the cracks in this one with epoxy mixed with red chalk like powder to suggest the fire that killed the tree. #812, 12" across x 2-1/2" high. Tung oil finish . SOLD